The Stove Store is one of only a handful of companies certified and insured for wood burning installations and knowledgeable of wood burning furnaces and boiler systems.
Wood Boilers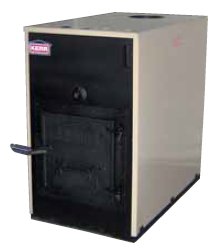 A wood-fired central heat system is safer, less time-consuming, cleaner-burning, more efficient and also more economical.
Whether you're interested in heating your house, cottage or shop we have the right wood fired boiler for you that can combine radiant infloor heating, radiators or a hydronic coil in your existing furnace and duct work to provide you with some or all of your heating needs. With today's modern wood boilers, you can even provide domestic hot water from a single unit.
Wood Furnaces
Wood is a great choice if you have access to a woodlot or can buy firewood relatively inexpensively. With recurring concerns about the high cost of home heat, more people are heating their homes with wood.
As a renewable, biomass fuel, firewood is abundant and relatively inexpensive. Burning wood for heat in a wood furnace helps people take control of high home heating bills and can even keep a house warm when the power goes out.
Wood furnaces can be used alone to heat your home, or can be combined with your current furnace system. This gives you all the advantages of wood heating, with a worry-free backup, when you are away from home.
Napoleon has developed wood burning furnace that can be set up in five combinations. We can install a wood only furnace, a wood/oil combination, wood/electric, wood/electric/oil and finally a wood/propane or natural gas system.
The Stove Store Can Help
For home owners looking to replace furnaces, it can be a large decision, and one that they have to live with for the next 15 to 20 years. The Stove Store can help guide you to replacement furnaces you can both afford and gives you the comfort level that you are searching for.
Need to replace your furnace but don't have the money up front? That's ok The Stove Store offers financing to own with flexible terms that can be paid off in full at any time.
The Stove Store's experienced and licensed installation technicians are available to provide a professional and worry-free installation.
The Stove Store is a full service gas and cooling contractor. We are fully licensed and insured for both gas and air conditioning, and we specialize in replacement furnaces. You can take comfort in our ability to walk you through the process of changing out your existing furnace to a quieter more efficient furnace.
Call today and ask about any current promotions or rebates or to book a free estimate, or stop by our showroom for expert advice.