If you are considering replacing your existing water heater or installing into a new house, you may want to look at a tankless water heater system.
The Benefits of Tankless
Never run out of hot water again, endless on demand hot water
Typical 20 year life span
Energy efficient (savings up to 40% compared to standard conventional tanks)
Flexibility. Can be installed in any room
Cleaner water
Up to 98% efficient
Tank, Tankless, and Navien
Navien's primary condensing stainless steel heat exchangers are able to recover extra heat that would be lost in traditional tankless water heaters. Since all Navien's tankless water heaters are condensing tankless gas water heaters the exhaust temperature is very low. In fact the exhaust temperature is so low you are able to use PVC schedule 40 to vent the units in almost all applications. The use of PVC allows for significant installation cost savings compared to traditional tankless water heaters.
Condensing Technology

Condensing Technology
Navien's Condensing tankless water heaters are ideal for tank replacement providing an exceptional amount of cost savings during operation compared to traditional tank water heaters. Unfortunately, old-fashioned tank heaters, as well as conventional tankless water heaters, emit harmful Nitrogen (NOx) and Carbon dioxide(CO2) directly into the air at a whopping 245°F-450°F! These harmful emissions damage both us and the environment in which we live.
Why Navien?
The Ultimate in Energy Efficiency with Precision Technology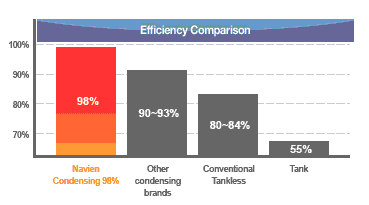 Why choose a Navien Condensing Tankless Water Heater? In a word: Efficiency. You see, Navien utilizes "condensing technology," giving our Water Heaters up to 0.99 Energy Factor. Knocking the competition out of the water, these extremely efficient and eco-friendly units will provide extra savings for you and your family.
How Does It Work?
Navien's Condensing tankless water heaters can provide you with an endless supply of hot water. Navien's Condensing tankless water heaters provide hot water on demand. Navien achieves this by activating the unit the second you open a hot water tap, supplying you with an endless supply of hot water.
Conventional tank-type water heaters eventually run out of hot water when you take multiple draws in a row from the tank.
Since Navien Condensing tankless water heaters only provide hot water when you need it and can provide an endless supply of hot water, you never have to worry about running out of hot water no matter how many hot water draws you have in a row.