Be comfortable when you're home.
Save money when you're not.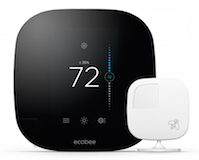 Not only are our home energy solutions easy to use but they also help you save money and are designed to fit your lifestyle. No wonder 96% of customers would recommend ecobee to their friends!
SAVE MONEY
Did you know that heating and cooling makes up over 50% of the average home's energy use? Cutting back on the amount of energy you use is going to translate into cost savings. And with ecobee you can do it without sacrificing comfort! It's pretty much a win-win any way you look at it.
REDUCE ENERGY USE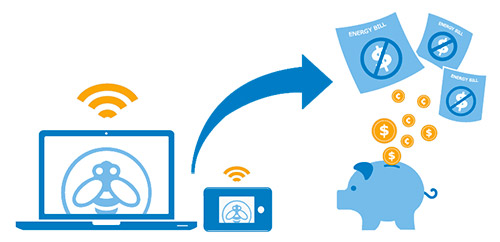 We know you're committed to reducing your impact on the environment — just like we are. You'll be happy to know that our green products automate energy conservation, making it easy to reduce your carbon footprint.
Connect. Control. Comfort.
There's a reason why we call this the ecobee Smart Thermostat. For one thing, it's internet enabled through WiFi so that you can easily monitor and manage your home comfort. It's also a smart way to save money and reduce your environmental impact. Genius.
Your very own ecobee Web Portal.
When you get an ecobee Smart Thermostat, we'll give you access to your own personal and secure web portal to manage all aspects of your Smart Thermostat. It doesn't matter where you are — all you need is an Internet connection. And if you think that's good, there's also no annual fee! Your web portal gives you complete control over every aspect of your system, including:
Seeing what's happening in your home from anywhere
Viewing reports on your system's performance
Modifying your thermostat's program
Changing your profile
Setting up alerts and service reminders
Setting a vacation schedule
Changing your preferences