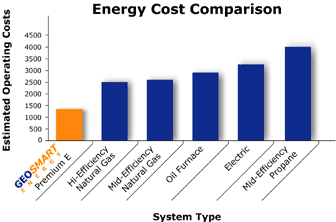 A geothermal heat pump or ground source heat pump (GSHP) is a central heating and/or cooling system is cost-effective, energy-efficient and renewable heating and cooling solution for your home or business.
Geothermal systems use the earth as a heat source (in the winter) or a heat sink (in the summer). Instead of using outside air like traditional air source heat pumps, geothermal heat pumps provide both cooling and heating to your home, and are able to maintain the highest efficiency on even the coldest winter nights or the hottest summer days, saving money.
Conventional Geothermal is very cost effective to install in rural areas and ideal in properties that are able to contain two water wells.
Types of Loops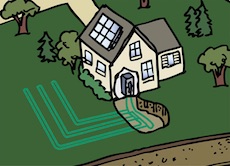 Horizontal Loops
Used where adequate land space is available, horizontal loops involve one or more trenches that are dug using a backhoe or excavator. High Density Green Geothermal Pipe is inserted, and the trenches are backfilled. Each trench ranges in length up to 300′.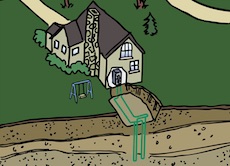 Vertical Loops
Vertical loops are used when space is limited. Holes are bored using a drilling rig, and a pair of High Density Green Geothermal Pipes with special u-bend fittings is inserted into the holes. A typical home requires three to five bores with about 10′ between each hole. Bore holes can range from 75′ to 300′.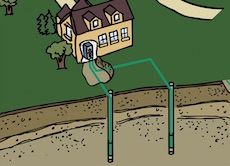 Open Loops
An open loop is used where there is an abundant supply of quality well water. The well must have enough capacity to provide adequate flow for both domestic use and the GeoSmart Energy unit. Discharge water should be sent directly to a second recharge well.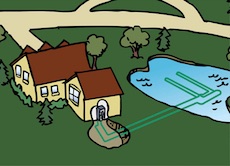 Pond Loops
Gaining popularity in "Cottage Country", Pond or Lake Loops are a great choice if an adequately sized body of water is close to your home. This is an affordable alternative as excavation costs can be virtually eliminated. A series of High Density Green Geothermal closed loops can be extended and sunk to the bottom of the water body. A 1/2-acre, 8-foot-deep pond is usually sufficient for the average home.
Reasons for selecting The Stove Store for your geothermal project.
Approximately 25 years of industry experience.
Fully accredited & licensed geothermal designers and installers.
Licensed refrigeration professionals
Licensed sheet metal installers
In-floor heat specialist
Dependable & Reliable service.
We have a large satisfied customer base.
We use only the highest quality equipment.
Financing available OAC
Competitive rates
If you're looking for years of worry-free year-round comfort, you're looking for a geothermal system from The Stove Store, your geothermal specialists.